Cyber Week Only: Buy 1 Gift Certificate & Receive 1 Sound Expressions Music Album Free.
Each Gift Certificate is for one Sound Healing Therapy VoiceBio Session (available either online or in person).
Sound Expressions Sound Healing Therapy Instrumental Album are available for both digital download or hard copy – you email me the album of your choice (See complete list of album choices under Products on this website, CD Baby, or iTunes). Sound Expressions Instrumental Sound Healing Therapy Music is holistic frequency infused Holy Spirit led instrumental music for aligning and renewing body, mind, soul, and spirit.
This Christmas season give the unique gift of a Sound and Healing Therapy VoiceBio Session Gift Certificate, specialized and personalized for every person you desire to bless.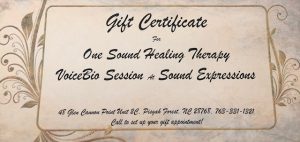 Sound and Healing Therapy VoiceBio Sessions are customized sound and healing therapy sessions
that utilize a unique VoiceBio software, revealing a composite analysis of your body's physical and
emotional frequency needs. The VoiceBio composite analysis results will suggest musical keys, essential
oils, colors, and supplements that will benefit you body, mind, soul, and spirit. Also from the VoiceBio
analysis, you will be given, through Holy Spirit leading, along with intention, timbres, melody, harmony,
rhythm, form, Just Intonation or Pythagorean tuning frequencies, and other unique software, an
individualized sound therapy music session, created personally and intentionally to your body's physical
and emotional needs, and recorded on CD for you to take home from the session to use repeatedly. Your
sound therapy session may also include additional mp3's or CD's, depending on personal needs.
Consider gifting or scheduling a Sound Healing and Therapy VoiceBio Session, a sound therapy massage,
or commission a sound therapy or original musical piece specific to your individual, family, or
group needs (emotional, spiritual, mental, or physical) today! Also consider gifting our
Sound and Healing Therapy Three CD Christmas Special (click on the link to see details under our
Products Page). Each CD contains holistic frequency infused spontaneous Holy Spirit led instrumental
music created to benefit your atmosphere, body-mind-soul-and spirit!