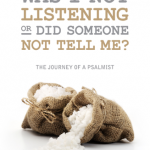 New Revised/Updated 2019 Edition with 31 Day Devotional/Journal. Life is a journey that manifests through numerous experiences and scenarios. As humans, we often see things from a perspective reflective of what we are interested in. Our interests align with our gifts and talents – our DNA. For Tammy, music is in her DNA. She was given a prophetic vision of her life as a flowing music staff suspended infinitely over a lush green meadow. As a conductor, it was her joy to collect and place individual notes on the staff. The notes represented individual people, who when they sang or played their notes, became an integral part of a symphony being created at precisely the right moment in time. Every individual has been created as part of the tapestry of Good Ideas because each one of us is a God Idea. This book is written in a musical format; as a composition with a series of musical movements. Preludes and fugues, melodies and harmonies, and a musical directive called, Selah, comprise the expression of our personal journey and the revelation learned along the way. Selah means to "pause and meditate," which is to say, "here's how it plays out." For each of us, life's journey is about what we have learned, as well as those things we wish we had known. Praying and believing for each reader through Was I Not Listening or Did They Not Tell Me? to be better equipped and empowered in playing the life song you have been gifted to release.
Paperback book includes a brand new 31 Day Devotional with Journal.
This book is also available via Amazon and on Kindle.
Copyright Tammy Sorenson/Sound Expressions April 2019
Cover Design by Jadan Advertising and Design
More Details
Click on the link below to view inside this book on Amazon.com: Look Inside This Book Coming Soon!


August 2018
The Arts Expressed Curriculum
Equipping Generations Through The Creative Arts
The Arts Expressed curriculum contains foundational equipping tools and instructional materials for raising up sons and daughters to be Spirit and Truth worshipers who impact the Earth with Kingdom of Heaven purpose through creative music, art, and movement. It includes Hands On Activities and Music for all ages, from the womb through the teens. The arts are a universal language for every nation. As parents and grandparents, our children and grandchildren are our legacy. As teachers and caretakers, we are called to a higher standard of establishing and nurturing the foundations of our greatest gifts: children. Sorenson's passion and calling is to equip a generation in Christ-centered identity and purpose, utilizing and incorporating creative music, art, and movement to empower sons and daughters to live from Heaven's perspective, shifting atmospheres over a lifetime. Her unique Kingdom ministry focuses on releasing and encountering His Presence, in conjunction with discipling the generations to be secure in Heavenly Father's love, carrying ambassador mantle's of His love, and connecting Heaven on Earth in the power of Holy Spirit on the mountain of arts and entertainment for such a time as this. The Arts Expressed is about equipping a creative generation to manifest His Kingdom come and His will be done on Earth as it is in Heaven through strategic music, art, and movement! This curriculum includes three Sound and Healing Therapy CDs created specific to this curriculum, as well as Sorenson's popular 2018 CD Release, Sound Expressions For Kids (Available either hard copy or download. Contact us to indicate preference.)
This curriculum release is available August 1, 2018, on this website, Create Space, Amazon, and various other distributors.
More Details
Music Listening Samples Available on CD Baby August 1, 2018
Updating…