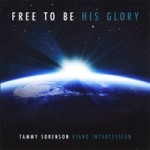 *Free to Be His Glory Album Notes
by Tammy Sorenson
This CD releases beautiful, peaceful, melodic, Holy Spirit led healing frequencies in 528 Hz, specifically targeted to infirmities, such as autism and cancer. Ten percent of CD proceeds will be sown into autism research/education.
"It is the glory of God to conceal a matter, but the glory of kings is to search out a matter" (Proverbs 25:2).
Copyright Tammy Sorenson/Sound Expressions September 2012.
All Rights Reserved.
Mixed by Jaran Sorenson
Jewel Case Art by Jadan Advertising And Design
Listening samples available on CD Baby.
Updating...