Description
Introducing three new EMDR Bilateral Music Sets, 1, 2, and 3, now available to download as individual songs or as full sets on this website under SHOP PRODUCTS and at tammysorenson.com/music!!! Set 1 will also be available as a physical CD as well as sold wherever digital distribution is available: Apple Music, Spotify, Amazon, Youtube, etc…
EMDR bilateral music is used by used by health care professionals as a therapy technique for difficult emotional and physical traumas (i.e. PTSD, etc.). It is also used in brain spotting. Most EMDR bilateral music pans gently from left to right and is meant to be listened to through headsets or ear buds. Health care practitioners should suggest the panning method best suited to each client/listener.
My producer in Nashville mastered my Sound Expressions for the Wounded Heart and Healing Expressions for Trauma albums a EMDR Bilateral Music. I additionally mastered as EMDR Bilateral Music some of my most effective and popular sound and healing therapy instrumental holistic frequency infused pieces, in order to create three complete sets. Set 1 focuses primarily on the Solfeggio Frequencies and frequencies specific to trauma. Set 2 utilizes the full 12 tones of VoiceBio Sound and Healing Therapy (and also includes Solfeggio Frequencies). Set 3 focuses primarily on the Solfeggio Frequencies.
EMDR Bilateral Music Sets 1, 2, and 3 can be used as important tools in traumatic healing therapy. Jehovah Rapha heals. Jesus was broken beyond recognition specifically for our healing – body, mind, soul, and spirit. I am humbled and blessed to be His vessel through Holy Spirit leading, hearing and creating the songs He sings over each individual reaching out to encounter His healing touch on all levels.
EMDR Bilateral Music Sets 1, 2, and 3
Tammy Sorenson (Copyright 2021)
EMDR Bilateral Music Sets 1,2, and 3
Song Titles, Musical Keys in Sound Healing Therapy Tunings, Scriptures
Copyright Tammy Sorenson/Sound Expressions July 2021
All Rights Reserved.
Produced and Mixed by Jaran Sorenson
Jewel Case Design by Jadan Advertising And Design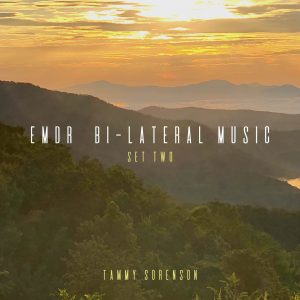 Mint B Bi-Lateral 
Lavender A#/Bb Bi-Lateral
Agape Love A 444 Bi-Lateral 
A Sound Mind G#/Ab Bi-Lateral
Blessed G Bi-Lateral 
Inner Peace F#/Gb Bi-Lateral 
Rose F Bi-Lateral 
Eternal E Bi-Lateral 
Joy D#/Eb Bi-Lateral
Humility D Bi-Lateral 
Comfort C#/Db Bi-Lateral
Transformed C 528 Hz Bi-Lateral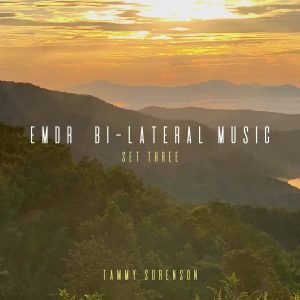 Perfect Peace 963 Hz Bi-Lateral 
Arise 852 Hz Bi-Lateral 

Restored 741 Hz Bi-Lateral 
Broken to Whole 639 Hz Bi-Lateral
Father's Love 639 Hz Bi-Lateral

Strengthened 528 Hz Bi-Lateral
Glory A 444 Hz Bi-Lateral
Restored Body 417 Hz Bi-Lateral
Refuge 396 Hz Bi-Lateral  

Perfect Love 396 Hz Bi-Lateral  
Breathe 333 Hz Bi-Lateral 
Passion 285 Hz Bi-Lateral
Aligned 174 Hz Bi-Lateral