Was I Not Listening OR Did Someone Not Tell Me?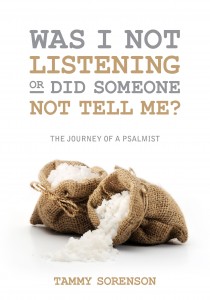 Be encouraged to check out my new book release! If you want more revelation on: worship in Spirit and in Truth, being the worshiper our Heavenly Father is seeking (John 4:23-24), identity in Christ, an orphan spirit verses the spirit of sonship, being an overcomer and perseverance, discovering the natural and spiritual gifts already within you, being equipped with the skills necessary to walk out your giftings and calling, Scriptural truths not necessarily 'seen or heard' with our spiritual/natural eyes and ears, Scriptural truths that have not necessarily been shared in the church world, sound and healing therapy, healing frequencies, as well as much more, check out Was I Not Listening OR Did Someone Not Tell Me?
"Life is a journey that manifests through numerous experiences and scenarios. As humans, we often see things from a perspective reflective of what we are interested in. Our interests align with our gifts and talents – our DNA. For Tammy, music is in her DNA. She was given a prophetic vision of her life as a flowing music staff suspended infinitely over a lush green meadow. As a conductor, it was her joy to collect and place individual notes on the staff. The notes represented individual people, who when they sang or played their notes, became an integral part of a symphony being created at precisely the right moment in time. Every individual has been created as part of the tapestry of Good Ideas because each one of us is a God Idea. This book is written in a musical format; as a composition with a series of musical movements. Preludes and fugues, melodies and harmonies, and a musical directive called, Selah, comprise the expression of our personal journey and the revelation learned along the way. Selah means to "pause and meditate," which is to say, "here's how it plays out." For each of us, life's journey is about what we have learned, as well as those things we wish we had known. Praying and believing for each reader through Was I Not Listening or Did They Not Tell Me? to be better equipped and empowered in playing the life song you have been gifted to release."
Each paperback book includes a bonus piano methodology. Updated Revised Editions 2019 include a 31 Day Devotional with Journey. AVAILABLE NOW on this website under SHOP PRODUCTS, at TheArtsExpressed.org under SHOP. This book is also available via Amazon and Kindle.