New March Sound & Healing Therapy CD Release: Salt & Light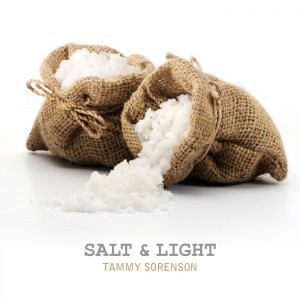 Sound Expressions will release a brand new Sound and Healing Therapy CD in March entitled, Salt & Light. It will be available under SHOP PRODUCTS on this website, at tammysorenson.com/music, at TheArtsExpressed.org under SHOP, as a CD digital release on CD Baby, Apple iTunes, Spotify, Amazon, and wherever digital music is sold on March 9, 2015! Listening sound clips will also be available March 9, 2015.
Holy Spirit confirmed A444 Hz to me as a Spirit-led, Biblical tuning for the curing of dis-ease spiritually, emotionally, physically, and mentally. A444 Hz contains the most complete resonance of the overtone series for very specific frequencies Holy Spirit has repeatedly revealed to me in my research. For those familiar with my previous Sound and Healing Therapy CDs, the specific frequencies utilized in Salt & Light are those known in the Sound and Healing Therapy field as the Solfeggio frequencies, as opposed to the twelve key tones pertaining to the body's resonant frequency areas. Additional frequencies revealed and confirmed by Holy Spirit include 333 Hz and 444 Hz, to best impact the body, mind, emotions, and spirit, via Holy Spirit leading and revelation.
I am thrilled to release this newest Sound & Healing Therapy CD, Salt & Light, as it resounds with a new season, a new sound, and a significant shift for the Body of Christ in supernaturally manifesting as salt and light, naturally!