WATERFALLS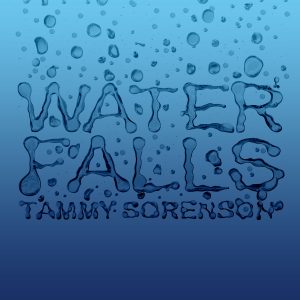 I find myself in an interesting and uncomfortable new place in this NOW time. I have a sense I am not alone, therefore, I felt led to write, as one never knows who will be impacted, empowered, or encouraged when following Holy Spirit's leading. I am in the midst of a new CD project as I write. The tracks are off to Nashville for compression and tweaking. The jacket design and song titles are complete. I am sensing this will be my final CD project. The definition of insanity is doing the same thing over and over again while expecting different results. This will be my 12th CD project since 2007. I've also written several books, including my May 2015 release, Revised Updated Edition with 31 Day Devotion 2019, Was I Not Listening OR Did Someone Not Tell Me?. I know each project has had its Kingdom purpose, bearing fruit on behalf of specific individuals with Father's intent for each one. In His goodness, our Father is always about the one. However, the cost of doing these projects has far exceeded the returns in the natural realm, and without supernatural intervention, the well has long run dry. I continue to stand in faith that each of the restoration promises of my Father will manifest in the season we have now entered in to.
In the restoration are new assignments. A friend called earlier this week at Holy Spirit prompting to share the following promise that has been in my journals since the onset of this past season: Haggai 2:3-9 (AMP), "Who is left among you who saw this house in its former glory? And how do you see it now? Is not this in your sight as nothing in comparison to that? Yet now be strong, alert, and courageous, O Zerubbabel, says the Lord; be strong, alert, and courageous, O Joshua son of Jehozadak, the high priest; and be strong, alert, and courageous, all you people of the land, says the Lord, and work! For I am with you, says the Lord of hosts. According to the promise that I covenanted with you when you came out of Egypt, so My Spirit stands and abides in the midst of you; fear not. For thus says the Lord of hosts: Yet once more, in a little while, I will shake and make tremble the [starry] heavens, the earth, the sea, and the dry land; And I will shake all nations and the [a]desire and the precious things of all nations shall come in, and I will fill this house with splendor, says the Lord of hosts. The silver is Mine and the gold is Mine, says the Lord of hosts. The latter glory of this house [with its successor, to which Jesus came] shall be greater than the former, says the Lord of hosts; and in this place will I give peace and prosperity, says the Lord of hosts."
My prayer life since 2008 has consisted mostly of praying The Lord's Prayer and psalming Scripture as led by Holy Spirit. At this juncture, I am certain I am not alone in wondering why Scriptural and kairos Holy Spirit led prayers have seemingly gone as far as in the opposite direction as possible, and how to pray prayers that will truly manifest His Kingdom come and His will be done on Earth as it is in Heaven, not only on behalf of our own family, but on behalf of those Holy Spirit assigns us to pray for, as well as on behalf of the nations? In meditating on all that has and is transpiring personally, as a family, as a church body, and within our nation and the nations, there are only groans…deep, intense groans. Romans 8:26-27 (AMP) states, "So too the [Holy] Spirit comes to our aid and bears us up in our weakness; for we do not know what prayer to offer nor how to offer it worthily as we ought, but the Spirit Himself goes to meet our supplication and pleads in our behalf with unspeakable yearnings and groanings too deep for utterance. And He Who searches the hearts of men knows what is in the mind of the [Holy] Spirit [what His intent is], because the Spirit intercedes and pleads [before God] in behalf of the saints according to and in harmony with God's will."
It is through these very intense groans that my newest CD, Waterfalls, has been birthed and created.
Psalm 42:8-9 (CJB – Note: the reference numbers vary in this translation), "Deep is calling to deep at the thunder of your waterfalls; all your surging rapids and waves are sweeping over me. By day Adonai commands his grace, and at night his song is with me as a prayer to the God of my life."
Psalm 42:7-8 (NASB), "Deep calls to deep at the sound of Your waterfalls; All Your breakers and Your waves have rolled over me. The Lord will command His lovingkindness in the daytime; And His song will be with me in the night, A prayer to the God of my life."
Through the Sound and Healing Therapy frequencies, tunings, settings, and the song titles, Holy Spirit has led me to cross into a new place in my journey as a son of the Kingdom of Adonai on Earth, and as one of His psalmists. Seeking first His Kingdom and His righteousness have been my passionate pursuit since 1973. However, Holy Spirit has brought me to an extremely unfamiliar place as His worshiper in pursuit of the Lover of my soul and the sound and atmosphere of Heaven being released on Earth; where all yearning, desires, dreams, wants, and needs have been abandoned and surrendered to His leading, and where nothing else can remotely satisfy this longing – this yearning – this intense aching – deep within me. Nothing – no thing. More of His tangible manifest Presence alone can satisfy. More of His tangible manifest Presence alone can set the captives free from all that hinders or binds. More of His tangible manifest Presence alone is absolutely necessary for this season the entire Earth has NOW entered in to.
As His blood-covered, Holy Spirit Light-filled son and psalmist, I released the depths of our Heavenly Father's call, and the sanctifying, cleansing, and healing of His surging rapids and waves, to and over all who would choose to listen, see, respond, and receive through Waterfalls. August 2015 Release Date. Copyright 2015 Tammy Sorenson/Sound Expressions