Two New Cutting Edge May 2020 Sound Therapy Releases
Announcing two brand new cutting edge Sound Therapy CD Releases May 2020

I AM SOUND Sound Therapy
This Holy Spirit inspired download assignment is specific to the body's energy gateways, sound therapy frequencies, colors, and Scriptural revelations connecting the Seven Spirits of God, the fruits of the Spirit, the amor of God, the Romans 12 revelatory gifts, the names of God, and strategic Scriptures pertaining to each.
Downloads are available at tammysorenson.com and wherever digital distribution is sold, including Spotify, Apple iTunes, and Amazon.
I AM SOUND Sound Therapy Album
Tammy Sorenson
Copyright May 2020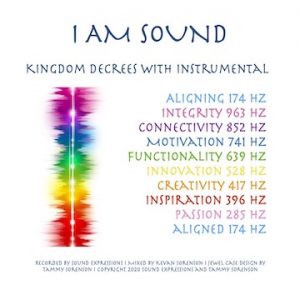 I AM SOUND Instrumental Only
I AM SOUND Sound Therapy album without the vocal decrees, remastered for instrumental only excellence. This album contains the holistic frequency infused instrumental pieces that accompany my profound revelatory I AM SOUND Sound Therapy project.
I AM SOUND Instrumental
Tammy Sorenson
Copyright May 2020