EASE Launch Ministry Week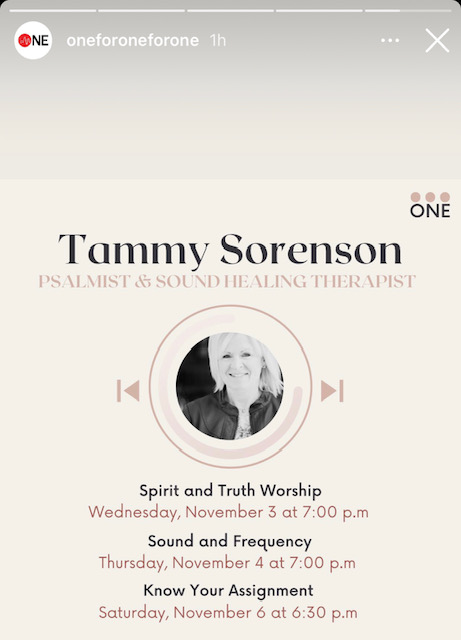 The week of November 2 – 8, 2021, will be an exciting week of Sound Expressions ministry. Tammy Sorenson, Psalmist and Sound Healing Therapist, will be with the One for One for One movement in Akron, Ohio. Holy Spirit has been downloading a NOW Word that is paramount to the Ecclesia at this critical juncture in His Story. I have been working with both a gifted Kingdom artist and a gifted aromatherapist in preparation for this EASE launch ministry week. For this unique and strategically specific assignment, a NOW Word with an upcoming album release, I have collaborated with Alison Teal Lewis of Teal Patrick Art and Angela Vrettas of Scent of Life. Co-laboring as one in Holy Spirit leading as His Esthers and Deborahs is paramount to Kingdom in this new season.
EASE Collaboration Launch
Throughout this EASE launch ministry week, I will be sharing previews of my upcoming new album release, EASE. I will also share a portion of my immersive for the upcoming Living Sabbath Virtual Retreat. Wednesday evening I will teach on Spirit and Truth Worship (John 4:23-24). Thursday and Friday will include VoiceBio Sound Therapy Sessions, Integrated Life Process Sessions, and Vibrational Sound Therapy Sessions. Thursday evening, I will share on Sound and Frequency. The week will conclude with my EASE launch and Know Your Assignment at their Anchor gathering.
Unpacking EASE
Decades of walking intimately with Jesus, i.e. miles and hours of prayer walks, worship, and intercession have led up to this greatly anticipated week. I will be unpacking the acronym EASE, a prophetic Holy Spirit given word, as I launch this exciting new season with a very unique and special group of sons and daughters of the King. I will share additional details specific to unpacking EASE in upcoming posts. EASE is strategic to both my new album and to the hour in which we live.
Upcoming Album Releases
Both my new upcoming album, EASE, along with an EMDR version of Release the Sound You Were Created To Make, will release in December 2021 and early January 2022. Abundantly thankful, humble, filled with anticipation, expectation, excitement, worship, and praise for ALL Holy Spirit will guide and lead us in to this very special week. My ministry week in Ohio releasing EASE with the amazing Powers family and The ONE Movement will be a very special week to remember eternally!